So we have a camper – what now? Go camping! We took our camper out the first two weekends after picking it up, and we're really glad we did. The first weekend the weather wasn't good – cold and rainy – but we had lots of fun and got to test out all of the systems, including the heat.
Being totally new to trailer camping, we have a lot to learn and are really thankful for all of the people who have given us tips and advice. If you're also new to trailer camping, or thinking about getting into it, what follows is a summary of what we've learned so far. If you're an experienced trailer camper and you think we're missing important info, please let us know!!
Before the first trip
When we picked up the trailer we were prepared to purchase a number of must have items. What follows are the types of items we purchased.
Electric cords, adaptors, and a power tester
Hoses to access water and hoses to pump out dirty water and sewage
Leveling blocks
Covers for our roof vents so they can be open in the rain
Chemicals for the toilet
The total bill was about $900. There were arguably some things we purchased that were more luxury or could be bought cheaper elsewhere, but the important message is to expect to spend some money to get the trailer ready to use.
Essentially the trailer is a little house that we pull behind our car. This means that it needs many of the same things we put in a house. Below are the items we considered… we're sure to figure out others along the way!
Silverware
Plates, bowls, and serving dishes that aren't breakable
Cooking items – cutting boards, knives, bowls, pots, and pans
Portable gas grill
Coffee maker
Bins to put things in so they don't move around in the cabinets while in transit
Bedding
Shower towels, dish towels, and rags for cleaning
Biodegradable toilet paper
Napkins and/or paper towels
Broom, Swiffer, and cleaning supplies
Toiletries and a way to carry them to the showers (we don't plan to use the shower in our trailer very much)
Additional power strip
Floor mats for the entrance of the trailer
We tried hard to find old or duplicate items in our house to avoid buying a lot of new stuff.
On the first trip
Both weekends went to a campground that had electric, but no water hook ups. Also, no pull-through sites. Though it was a little stressful at first, we are happy that we didn't have the easy-to-get-into site with all hook ups available because we were able to learn more and gain some confidence. Overall, the experience was great and we are so excited to camp more! What follows are some of the things we learned.
We need an internet solution that's not just our hot-spots. We love to be out in nature and sometimes these areas have limited or no cell service. We are doing a lot of research on this now and we'll share the info we find.
Backing in wasn't too bad – we can do it! We do need to develop a way to communicate to make it quicker and easier.
We learned a lot about our carbon monoxide detector because it kept going off at random times, spoiling some of our serenity! After a lot of study we determined that it was likely broken and called the dealership. The randomness didn't make sense to them either, so they replaced it.
We need to wipe off the slide when we bring it in if it's raining, otherwise it will drip water all over the inside of the trailer.
Pumping out is not hard… when they explained it to us at the dealership it seemed complicated, but it's not.
The heater really does work well and we could go camping in cold temperatures with no issue.
If we couldn't get a site with any hook ups for a few days we'd be fine… it's just really important to have a full water tank and battery. We are purchasing a back-up battery for this reason.
Don't forget firewood and ingredients for s'mores!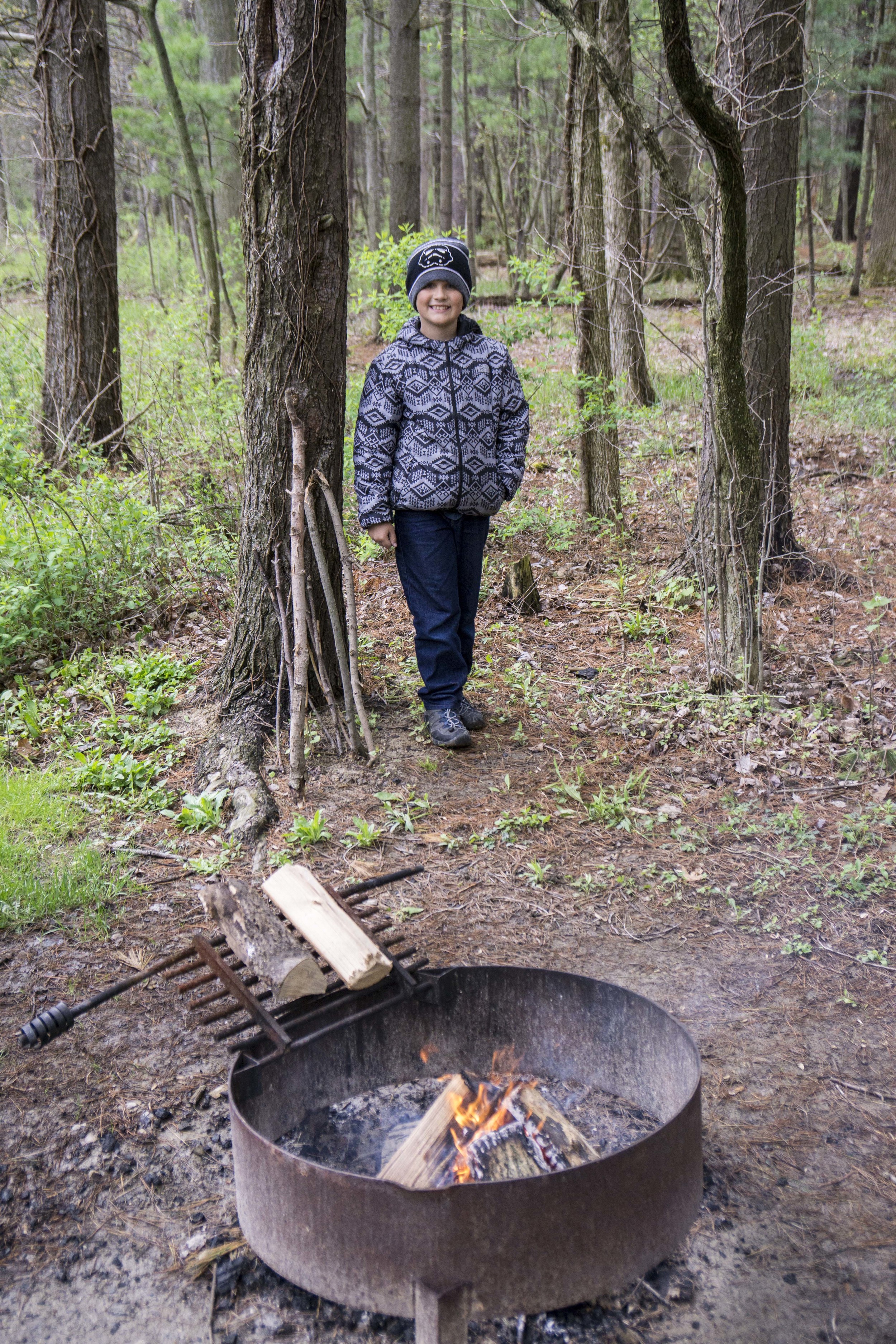 What we're learning about campgrounds
Campgrounds are a whole new thing to us… finding good ones, understanding what they have, knowing if we need reservations, etc. What follows are some of the early things we've learned.
Campgrounds fill up fast! When we envisioned our Great Lakes trip, we expected to just start off and find campgrounds along the way. Though this might be OK for certain parts of the trip, if we have specific places we want to stay and/or are going somewhere with limited options we need reservations.
Campgrounds vary greatly in amenities and price. We were surprised to learn that some campgrounds with full hook-ups are $80! However, many of these campgrounds offer a lot – pools, cable, wi-fi, game rooms, other activities – they are really like resorts. There are much less expensive options which are often at state/national parks. We went to Findley State Park in Wellington, OH and paid $26/night. http://parks.ohiodnr.gov/findley
Some campgrounds only offer seasonal options, or are primarily seasonal. We looked at a few campgrounds on the route for our trip that looked great, but when we looked into the further we realized they wouldn't be an option for us.