Have you ever been somewhere as a kid and wondered what it would be like years later? Todd and I had both been to the Leamington/Pelee area while boating with our parents many years ago. As a child, my family enjoyed summer vacations at a cottage on the Pelee Island shore. Todd and I eagerly anticipated this stop on the trip… to see what it looks like now, to bring back great memories, and to make new memories with Daniel.
We stayed at a Camper's Cove in Wheatley, about 11 miles east of Leamington… optimally we would have stayed closer to Leamington, but Camper's Cove is the best campground option in the area and is worth the extra travel time… it's the best campground we've stayed in yet. The natural surroundings, site, and amenities both on the site and around the campground (i.e. showers, laundry, camp store, etc.) are fantastic!
As we planned our time we noted three distinct areas to visit: the town of Leamington, Point Pelee are, and Pelee Island. Each has its own feel and offers different experiences.
The evening we arrived we headed to Leamington to explore and have dinner. Leamington, is a big small town… there's a little area with a concentration of local restaurants, an industrial and office area, and the marina and ferry dock. We went to the marina and ferry dock first so we could check out the lake. The marina is really nice and modern and looks like it was recently renovated. There are a few restaurants by the marina, but they are more snack and ice cream places, so we headed to the restaurant area for dinner.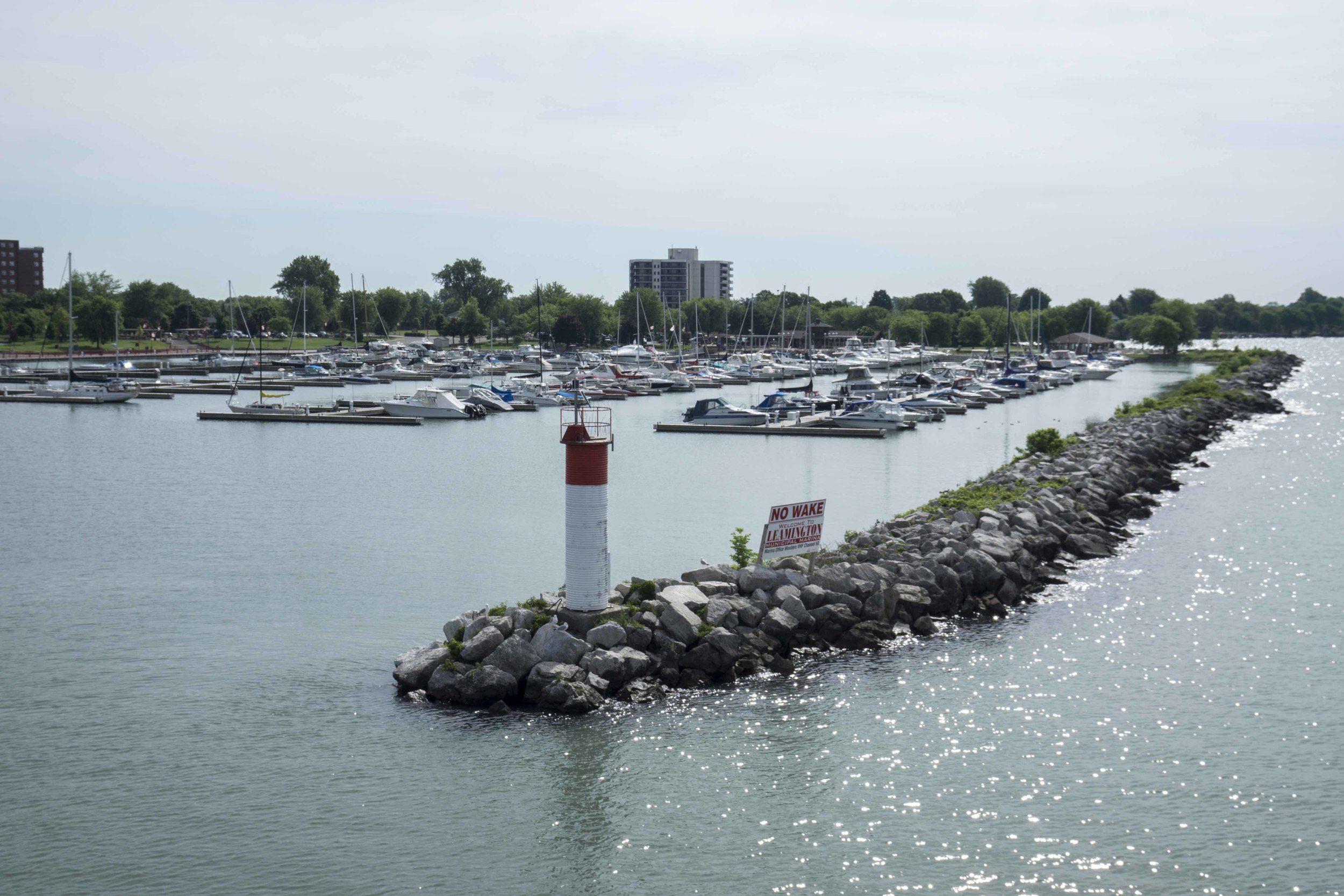 Leamington is a diverse area and this shines through in the dining options… Italian, Mexican, Portuguese, Mediterranean, Middle Eastern, casual pub food, and lots of fried fish! We chose Gilligan's, which has a mix of salads and pub food with unique twists. Initially we were not that jazzed… it was Monday night and a lot of places were closed so we didn't have a lot of options. However, Gilligan's totally exceeded our expectations… we had a great meal and the atmosphere was relaxed and casual. Daniel had cheeseburger sliders, Todd had a Greek chicken sandwich, and I had the chopped salad. They were all great, and the service was very good. This is a great place for a group with lots of different eating tastes… there's something for everyone.
We had two full days in the area and decided to spend the first day in the Point Pelee area and the second day on Pelee Island.
The Point Pelee area is on a piece of land that extends out into Lake Erie just east of the the town of Leamington. The northern part of the area has the feel of a beach town… cottages, restaurants, snack shacks, and fishing/beach supply shops. The southern part of the area is Point Pelee National Park, which has a marsh area inland and beautiful beaches on either side. It comes to a point, which is the southernmost point of mainland Canada.
We headed for Point Pelee National Park first. A family day pass to the park is about $20 Canadian. Once in the park we drove about half way down the west side to the Black Willow Beach entrance area. The beach is great, especially for a walk… it's very long and there are various points along the way with entrance/exit points with washrooms and picnic tables. The sand is a little rocky, but not too rocky to walk barefoot. The water is shallow enough for safe swimming, which Daniel really enjoyed.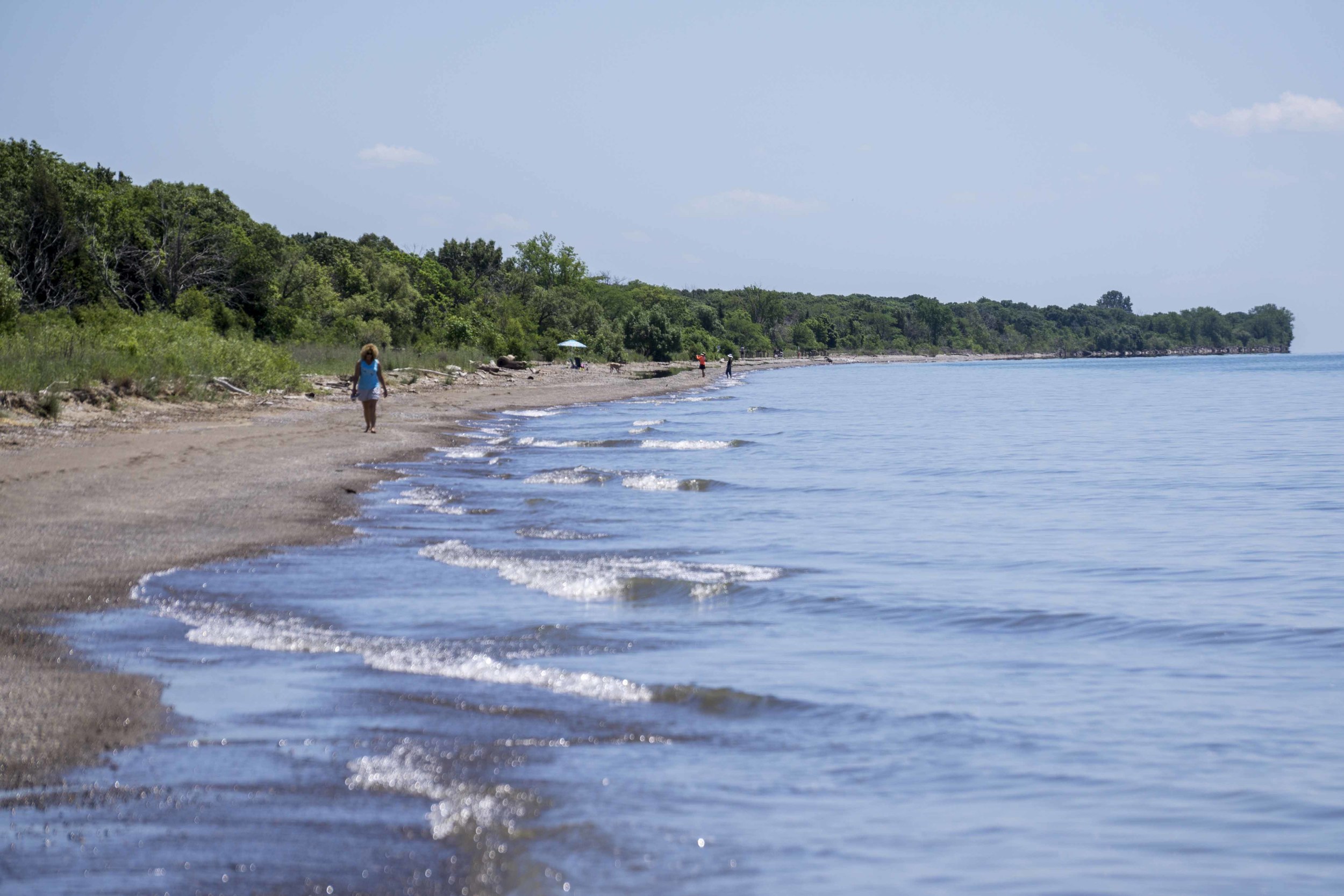 We spent all of our time in Point Pelee National Park on the west side beach. There are various hiking trails through the marshes, which we didn't do… the bugs and heat didn't make them very appealing! There is no east side beach access via car that we could find, however the map indicates several kayak/canoe routes.
After a few hours at the beach we headed to the northern part of the Point Pelee area for an early dinner. There are a number of restaurants available. The common specialty is fried Lake Erie fish. Some of the restaurants are walk up stands and others are full service. Most offer indoor and outdoor seating. We did some research and picked Freddy's for a couple reasons… great reviews and more extensive menu than just fried fish.
Freddy's is fantastic! We sat on the large outdoor patio facing the lake and enjoyed a relaxing drink before ordering our meal. Freddy's offers a good beer selection and imported as well as local wines (many restaurants in the are only offer local wines). As we looked over the menu we had a hard time deciding what to get because there are so many options… burgers, pizza, fish, and lots of middle eastern selections (Todd and I love middle eastern food). Daniel was thrilled to get pizza, I had a fattoush salad with falafel, and Todd had a falafel burger. Following dinner Daniel got to choose from 32 flavors of ice cream for dessert. Overall, Freddy's is great… both the atmosphere and the food live up to the great reviews!
Interested in visiting Leamington? In addition to camping, we noted a number of hotels and cottage rentals. The marina is also very nice for those boating over. Another item to note: we aren't golfers, but did note a number of golf courses.
An evening and a full day was the right amount of time for us in the Leamington and Point Pelee areas. We did a day trip to Pelee Island for our second full day, which we'll cover in a separate post.