Not every trip we take is to an idyllic sandy beach destination, we also like mix in some cities, lakes, and mountains. As was the case a few years back when we visited several locations in Austria and Germany. While on a family trip, you really never know when your photographic opportunities are going to arise….you just know that you need to be ready. This image taken on Lake Plansee in Austria is a perfect example of that. We were staying in the beautiful town of Fussen in Bavaria, Germany only a few miles from the Austrian border. We decided that we wanted to take a day trip to explore some to the smaller mountain towns of Austria and experience the Zugspitze, which at 2,962 m (9,718 ft) above sea level, is the highest peak of the Wetterstein Mountains as well as the highest mountain in Germany. You can take cable cars to the summit from both the Austrian and Germany side, but we had read that the Austrian side was faster, cheaper, and more scenic. So we headed to Ehrwald in the Austrian state of Tyrol (Tirol) located at the southern base of the Zugspitz to take the Tiroler Zugspitzbahn. What an amazing experience this turned out to be! You take a very modern, fast moving cable car into the clouds in order to enjoy an amazing mountain top panorama right at the border of Austria and Germany. We were there in late June and there was still a decent amount of snow on the ground.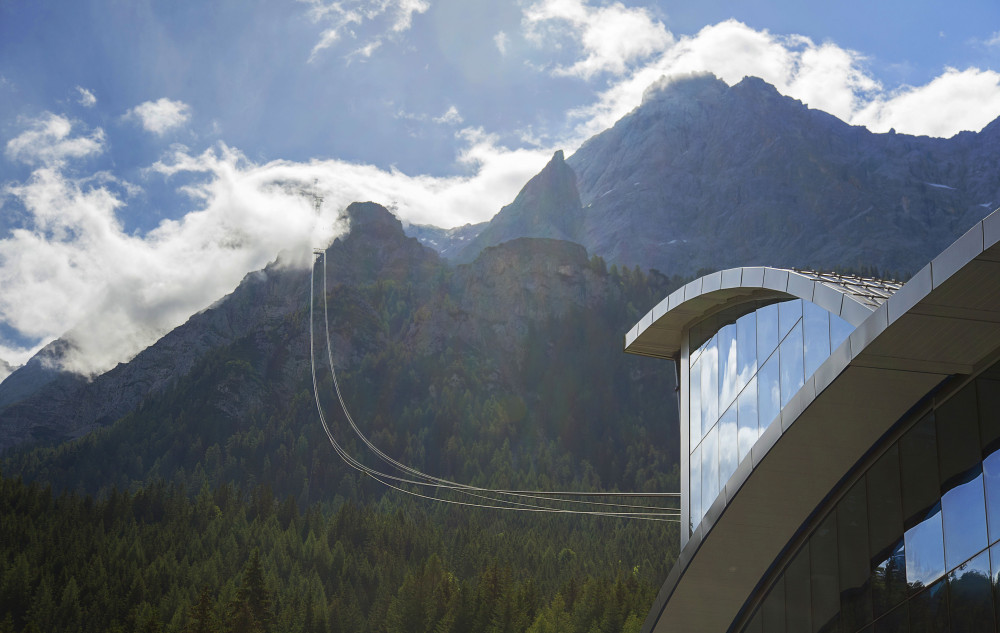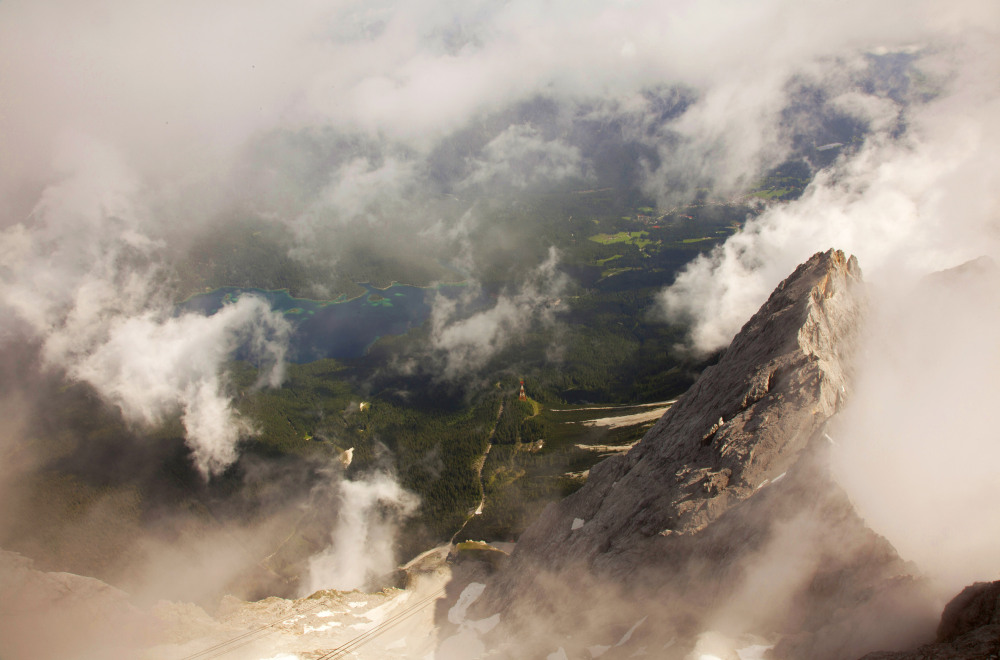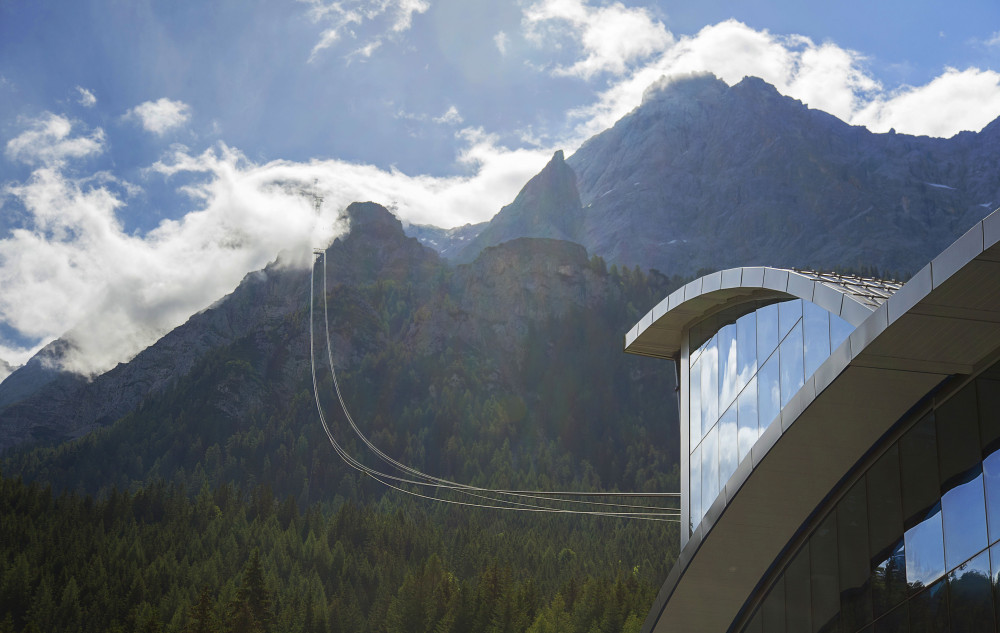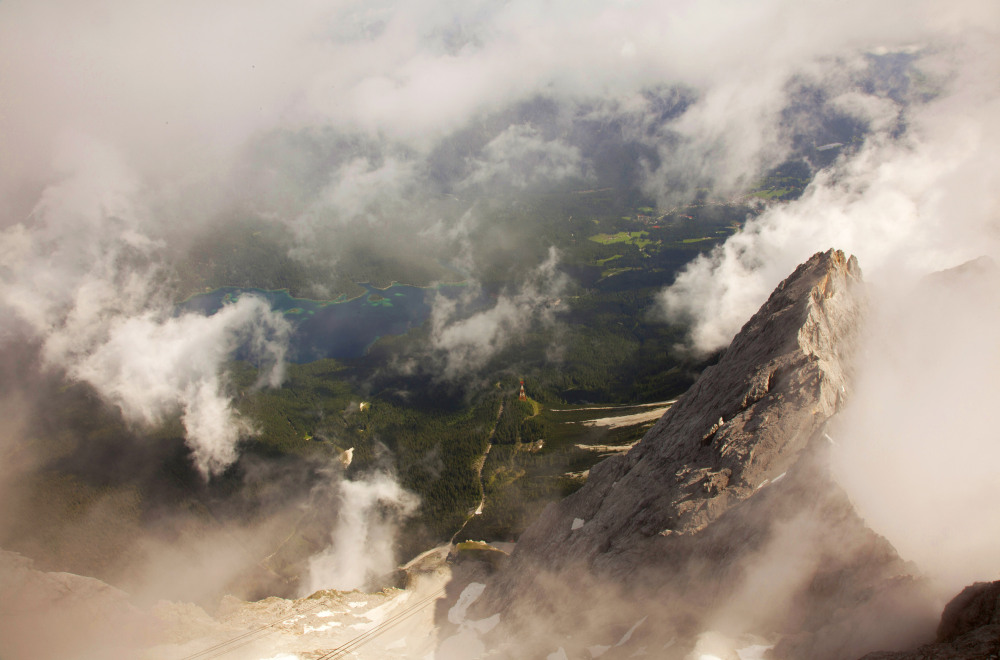 Afterwards we decided to cross back over the border into Germany and head to Oberammergau for lunch and some shopping, they are famous for their woodcarvers. We explored this beautiful mountainside town and headed back towards Fussen with full stomachs and some handicrafts.
As with most family road trips, somewhere along the twisting back roads of Bavaria, nature called several members of our family. Needless to say there aren't a lot of options out there, mostly just nature with very few public facilities in the area. As we rounded one bend we were presented with this gorgeous mountain side lake with this incredible green tinged water. Better yet, it had a marina/ store with facilities! I took the opportunity to explore and shoot. The skies were overcast and the light wasn't fantastic, but i was intrigued by the gorgeous color of the water and the fact that there was a lake in the middle of the mountains large enough to harbor sailboats. I quickly walked around the lake clicking away, just then a sailboat was coming into its dock and i took the opportunity to make this image. My father-in-law and i still laugh to this day, as he recounts sitting in the car (with my sleeping son) looking at the conditions thinking there's no way he's going to capture anything print worthy in these conditions. The lesson is: you just never know when the opportunity will arise….be ready!! This photograph on metal hangs in our home to this day.